Brooklyn, NY — February 23, 2023 — scite, an award-winning tool that helps researchers discover and understand research findings more efficiently through Smart Citations, has partnered with Colabra, provider of a modern GxP-compliant Electronic Laboratory Notebook (ELN) and project management tool, to enhance the citation experience on the Colabra platform.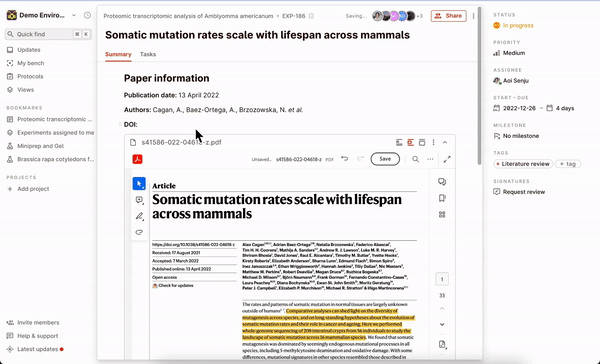 Smart Citations, developed by scite, extends the conventional use of citations by displaying not only the reference itself but also the specific sections within the citing papers where the cited work is used and a categorization indicating whether the referenced publication provides corroborating or opposing evidence to the claim being cited.
Colabra is an extensible, GxP-compliant platform that offers comprehensive solutions for cataloging events throughout the R&D lifecycle, streamlining FAIR data governance, and connecting siloed systems into research insights. By centralizing team knowledge and providing advanced collaboration and automation capabilities, Colabra streamlines R&D processes, reducing risk and cost.
Smart Citations were developed using advanced machine learning algorithms that can efficiently extract and examine citation statements from a large number of full-text articles. This information helps researchers gain insights into how and why an article has been cited and engaged with in subsequent research, providing a more nuanced and rich source of information than a simple citation count and list of referenced works devoid of context.
To date, scite has partnered with over two dozen major publishers, analyzing and indexing over 1.8B citation statements extracted from more than 33M full-text articles. Smart Citations will be added to Colabra experiments, adding to the already 3M articles that display Smart Citations from other publishers like Wiley, The Royal Society, ACS, and The National Academy of Sciences.
Josh Nicholson, co-founder and CEO of scite, says, "The Colabra platform provides a user-friendly interface for documenting and understanding the context of laboratory work, resulting in an expedited research process. The partnership between Colabra and scite will empower scientists to dive deeper into their research to more efficiently build on existing bodies of knowledge and gain deeper insights into new fields."
"With scite's powerful tools providing access to expert analyses and opinions on any given topic, scientists on Colabra can quickly determine whether previous research has been corroborated or challenged, leading to a more efficient research process," said Aoi Senju, co-founder and CEO of Colabra. "I've used scite for my research in the past and loved it. When our users asked for literature integrations on Colabra and the ability to embed citations, we knew we wanted to go one step further and partner with scite."
scite is a Brooklyn-based startup that helps researchers better discover and evaluate scientific articles through Smart Citations that display the context of the citation and describe whether the article provides supporting or contrasting evidence. scite is used by researchers from around the world and is funded in part by the National Science Foundation and the National Institute of Drug Abuse of the National Institutes of Health.
Colabra is the R&D data and workflow visibility platform. Colabra aggregates events throughout the R&D lifecycle, streamlines FAIR data governance, and connects siloed systems into research insights. With Colabra's no-code integrations, teams can align wet-lab and in-silico research, simplify business intelligence and reporting, streamline compliance, security and access control, stay on top of deadlines, and accelerate feedback loops. For more information, please visit colabra.app.