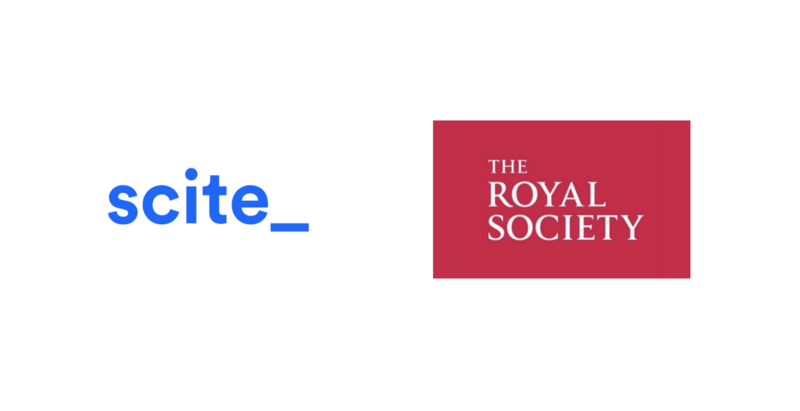 BROOKLYN, NY — July 27, 2021 — scite, an award-winning platform for discovering and understanding research articles via Smart Citations, and The Royal Society, a Fellowship of many of the world's most eminent scientists and the oldest scientific academy in continuous existence, have partnered.
Using artificial intelligence scite has developed a system that extracts citation statements from scientific articles and classifies them as supporting, contrasting, and mentioning. This information allows readers to easily see how an article has been cited by others, providing a more nuanced and rich source of information than what is offered by traditional citations.
The partnership will allow scite to analyze all articles published by The Royal Society, enhancing their discoverability and improving the coverage of citation statements by scite. Already, scite has analyzed 26 million full-text articles from over a dozen other publishers.
The partnership will also allow The Royal Society to display Smart Citations from scite on articles they publish, helping readers better understand articles in context.
Josh Nicholson, co-founder and CEO of scite says, "We're very happy to be working with The Royal Society. They published the world's first journal article in 1665 and have continually published important research since then. There are not many organizations in the world with such a track record."
Phil Hurst, Publisher at the Royal Society says, "We are pleased to be working with scite, which will help readers see the context of citations -supporting or contradicting research findings"
scite is a Brooklyn-based startup that helps researchers better discover and evaluate scientific articles through Smart Citations–citations that display the context of the citation and describe whether the article provides supporting or contradicting evidence. Scite is used by researchers from dozens of countries and is funded in part by the National Science Foundation and the National Institute of Drug Abuse of the National Institutes of Health. For more information, please visit scite, follow us on Twitter, LinkedIn, and Facebook, and download our Chrome or Firefox plugin. For careers, please see our jobs page.
The Royal Society is a self-governing Fellowship of many of the world's most distinguished scientists drawn from all areas of science, engineering, and medicine. The Society's fundamental purpose, reflected in its founding Charters of the 1660s, is to recognise, promote, and support excellence in science and to encourage the development and use of science for the benefit of humanity. Follow the Royal Society on Twitter (@royalsociety) or on Facebook (facebook.com/theroyalsociety).