The Problem
A leading pharmaceutical company was looking for a solution that would help them stay up to date on how research they published was cited by other scientific publications. This was crucial for a number of reasons, in part because subsequent literature might highlight flaws in their findings or fill in gaps in their knowledge that accelerate or otherwise inform their internal research and development.
They wanted to make sure that the new tool was reliable, easy-to-use, accurate, and comprehensive in its coverage of scientific citations. With that in mind, they found scite to be the best solution to elevate their operations and give them a competitive edge.
Prior to scite, the company relied on manual processes built around tools such as PubMed, Google Scholar, and other web resources. A significant amount of time was spent manually finding, reading, and cataloging references made to their publications. More importantly, staying up to date as new citations happened became difficult due to how cumbersome this existing process was.
Today, they are able to see how papers they publish are cited by others in a matter of minutes. By simply viewing scite reports for their publications, they can immediately see which publications cite them and the relevant in-text context from the citing papers at a mere glance. More importantly, new citations made to their publications are delivered straight to their inbox as they are indexed, allowing them to stay on top of the ongoing scientific conversation and maintain a competitive advantage in their research and development process.
How scite helped
scite.ai is the leading source of citation statements between scientific papers, powered by Smart Citations. Whenever a publication makes an in-text reference to another publication, scite:
Extracts the textual context from the citing paper -- the "citation statement"
Classifies it as supporting, contrasting, or simply mentioning of the cited paper's findings
Through access to open-access articles and indexing agreements for full-text articles from various prominent publishers, scite is able to build and maintain the world's largest database of citation statements that show how findings from a scientific paper (or groups of papers) are discussed by subsequent publications.
Reports
The scite report page shows how an individual publication has been cited by others. As an example, if we were interested in NS-189, an experimental antidepressant, we could see how the publication describing it was cited by others by loading its scite report here: https://scite.ai/reports/nsi-189-a-small-molecule-with-XlaD8l

Metadata from the scite report showing information about the paper and how many times it was cited by others.
You can immediately see that it was cited by 16 other publications through 13 citation statements. More importantly, the relevant textual contexts from each citing paper are grouped and immediately visible to help you understand what other publications wrote about it.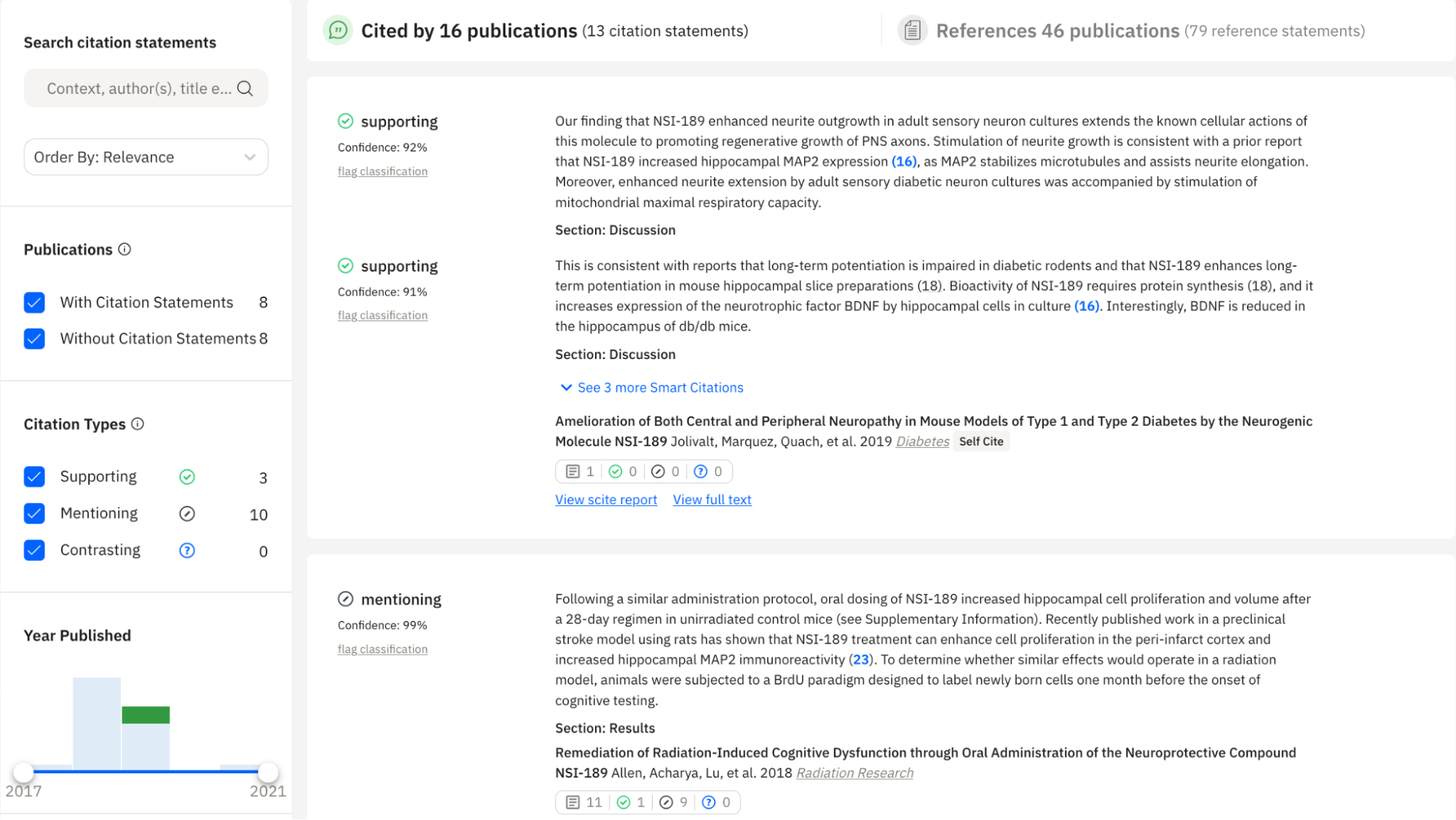 Grouped Smart Citations from the report page showing the title of the citing publications as well as the extracted textual contexts, allowing you to see how they referenced the paper of interest.
Learn more about the scite Report page here: https://help.scite.ai/en-us/article/how-do-i-use-the-scite-report-page-16ivit4/
Dashboards
scite allows you to group arbitrary sets of publications by creating a custom dashboard -- so you can see how well supported or contrasted findings from a group are. They can be built automatically from our search results page, through a manual list of DOIs you provide, or by syncing with your Zotero or Mendeley libraries and selecting the relevant papers.
The company created a custom dashboard from papers their organization published, allowing them to see at a glance how relatively well supported or contrasted their findings were in later studies.
You can learn more about custom dashboards here: https://help.scite.ai/en-us/article/how-do-i-make-and-use-custom-dashboards-17gc5fd/
Alerts
It is possible to configure email alerts to be notified when new citations happen to a paper (by setting an alert on a report), or to groups of papers (by setting an alert on a dashboard).
The company used alerts on a dashboard consisting of their publications to be notified when subsequent citations were found to any paper they published.
scite made it easier for them to navigate, understand, and stay on top of research that was of interest to them -- including their organization's publications or drugs of interest. With scite, they were able to effortlessly stay informed of the ongoing scientific conversation, enabling their team to focus their time on more high value tasks.
For more information on how scite works and how you can take advantage of scite at your company, visit our website at https://scite.ai or email us at sales@scite.ai.