We often refer to Citation Statements as the ongoing scientific conversation -- whenever new publications build on existing knowledge, they link it through citations and add context with the sentences within the paper where the references happen.
When we launched Citation Statement Search, we were thrilled at the idea of exploring these statements to find facts, figures and insights straight from the literature. It was a completely new way of sifting through science.
Over the beta, we made a number of enhancements to Citation Statement Search, including various aggregation filters so you can restrict the results by things like retractions or other editorial notices, authors, affiliations, publication year, and more.
Now, we're excited to announce that you can also save and configure an alert on your Citation Statement Searches.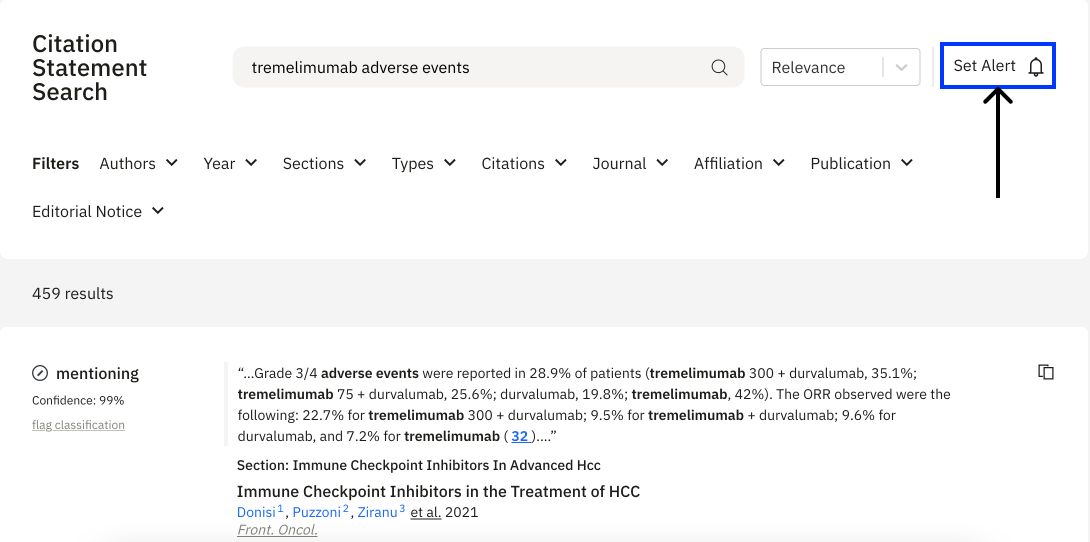 Configure an alert on a citation statement search by clicking "Set Alert" on the top right of the results page.
When you set this type of alert, we'll notify you in an email digest whenever we find new Citation Statements -- across the entire research literature -- that match the search parameters you configured.
An example email showing new citation statements we detect for a saved Citation Statement search.
This is slightly different from the alerts you can configure on our advanced search, which is primarily focused on metadata like titles of papers, abstracts, and such. Instead here, you're staying up to date based on the content of citation statements themselves!
Isn't that amazing?
-scite team
P.S. As always, if you have any feedback about scite, good or bad, please don't hesitate to write to us -- we're always listening.